Below are descriptions of activities taking place at Berkey Avenue Mennonite Fellowship (Berkey), commonly-used terms, and some of the priorities or values of the congregation. These are listed for your information and in the hope that you will take advantage of the opportunities available for participation in the congregation.
Meetinghouse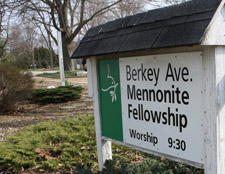 This is what we call the building located at 2509 Berkey Avenue, Goshen, Indiana, where the congregation meets for worship, study, fellowship, and group activities.
Sunday Worship Service(s)
We gather at the meetinghouse every Sunday morning at 9:30 a.m. for worship as the family of God. We try to balance traditional and contemporary forms of worship, using as many gifts in the fellowship as possible.
Nurture Hour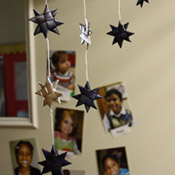 This is our way of talking about the second hour of Sunday morning, generally known as Sunday school. By using the phrase, "nurture hour," we want to express our hope that the faith of each individual will be nurtured through study and fellowship. Classes are available for everyone. Children from preschool through high school are in classes organized by age and/or grade in school. All of the adult classes are intergenerational, and they may focus on a variety of subject areas. We encourage adults to remain in the same class for a minimum of one quarter in order to build relationships there. Each class takes time to minister to personal needs.
Nursery
Childcare is provided for infants and toddlers during worship and for infants during the nurture hour.
Small Groups
Seventeen small groups meet on a regular basis. Each group plans its own meeting times and emphases, but all of them include support and prayer. If you are interested in joining an existing small group or helping to begin a new one, please see one of the pastors.
MYF (high school) and Jr. Youth (6th-8th grade)

These two separate youth groups meet on a regular basis for study, service projects, and social activities. Youth conventions and snow camps are also favorite activities.
Mentors
Each middle school and high school student is able to choose an adult in the congregation as a mentor. The pairs meet together on a regular basis for fellowship and to talk about emerging issues in the life of the student.
Men's Group
An open meeting to which all men in the congregation are welcome takes place on the first Saturday of each month for breakfast, Bible study, fellowship, and prayer.
Women's meetings
An open group meets the first Thursday of each month to enjoy a lunch, fellowship and an occasional craft project to benefit a local school or the church. Other groups, while not formally-organized, meet throughout the year to work on quilts and other projects as needed.
Bible School
A one-week Bible school experience for children four years old through sixth grade takes place each year in June.
Lay Involvement
One of Berkey's priorities is to identify and carefully use the gifts that individuals bring to the body. If you desire to share your gifts, they will be used. Many opportunities for service are available in the various aspects of the church.
Outreach
The church body and individual members are involved in various ministries in the Goshen area and beyond. Some of these ministries are LaCasa, Habitat for Humanity, The Window, Mennonite Relief Sale, Menno-nite Disaster Service and the Goshen Mennonite Hispanic Outreach. We are also involved in the Goshen Interfaith Hospitality Network.
Affiliation
Berkey is part of the Mennonite Church and particularly the Indiana-Michigan Mennonite Conference. The church supports the conference and the larger church financially and through the gifts of individuals who serve in various capacities. Our pastors are involved in several ministerial alliances in the Goshen area.
---
One Response to About