Peace Pole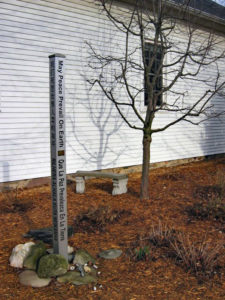 Berkey's Peace Pole was erected in August 2009 to replace an older wooden version that had succumbed to the elements. The current pole is made from aluminum and is located by the Southeast corner of the building. It displays the words "May peace prevail on earth" in these languages:
English
Spanish
Swahili
Vietnamese
Chinese
Arabic
Lao
Putunjanjara
A braille plate is also on the pole.
A time capsule is buried beside the peace pole.
---
Resources for Congregations
Pastors and Church Leaders. Peace Sunday Material, Writings, Litanies, Prayers and more.
View Congregational Resources
Resources for Youth
Resources for Youth: Writings, Reading Lists, Activities to teach youth about Peace and Justice.
View Resources for Youth
Resources for Military Personnel
Military Discharges and Regulations, Lists of Agencies that can help you rethink your participation in war.
View Resources for Military Personnel 
Peace Resources List
This growing list includes books, videos, and websites that have come to our attention as moving in the direction of shalom.
View Peace Resource List
---