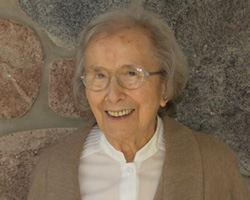 In the month of May, at the time of a family celebration for having arrived at year 90, I told my family that if I were to choose one word to describe those years, it would be grateful; grateful for my wonderful parents, Ray and Velma Spicher Hollopeter. Mother and Dad were school teachers. Both grew up in western PA, they then came to Akron, Ohio where they worked in the Firestone Rubber Company until they had sufficient cash to buy a property in Medina County, west of Akron. That was where I was born, lived with four siblings, and went to school. When I was almost age fourteen I was baptized in the Bethel Mennonite Church, west of Wadsworth, Ohio.
After high School I went to Goshen College; those were four important years in my spiritual growth. In my first week of college I met and eventually had a very meaningful relationship to David A. Shank, and among other things he taught me how to ice skate. I graduated from GC with majors in Home Economics and English and a minor in French. I was invited back to teach in the same high school from which I had graduated. After two years, Dave and I were married and Dave went to Seminary. Since there were no teaching positions open in my field in Goshen, I taught 2nd and 31'4 grades at Waterford.
Dave and I, independently, were both interested in foreign missions. When J. D. Graber presented us with the challenge of re-establishing an Anabaptist Community in Belgium, we were immediately challenged. We left for Europe with a nine month old son; another son and 2 daughters were born in Brussels. We spent 23 years in Belgium. In a visit to West Africa an important invitation from the head of the Harrist Church in the Ivory Coast was extended to us. Dave and I both heard the call and felt that we could not ignore it. In preparation for this assignment we spent 2 1/2 years at the University of Aberdeen in Scotland, followed by 10 years in Africa before retiring from Mennonite Board of Missions.
We have been grateful for God's sustaining love and faithfulness, for his direction and guidance in so many details of those years, for his graciousness and forgiveness; for our innumberable friends, and yes, for good health. lam indeed grateful.
~ Wilma Shank