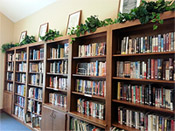 We are very happy to have two new people, Abbe Buller and Elizabeth Miller Richer, joining Lori Good on the Library Committee. This week, we feature two new titles.
The first, Fifteen Minutes by Karen Kingsbury tells the story of Zack Dylan, who made a promise to God and his college sweetheart as he left his family's horse farm in Kentucky to compete on the popular reality television show. If he makes it, the fame won't change him. Overnight, Zack is the nation's most popular contestant, a country singer with the looks and voice of a young Elvis. As his star rises, Zack is asked to compromise and quiet his beliefs, and also some­thing more. Something Zack could never have imagined. Just as America is falling in love with Zack, just as he's on the verge of winning it all, his choices lead him to the brink of personal disaster.
Animate (DVD) is a collection of short talks on the following subjects and speakers:  God: Faith is a Quest by Brian Mclaren, Religion: Spirituality is Not Enough by Lillian Daniel,  Jesus: The Revolution of Love by Mark Scandrette, Salvation: Abundant Life Now by Shane Hipps, Cross: Where God is by Nadia Bolz-Weber, Bible: A Book Like No Other by Lauren Winner, Church: An Imperfect Family by Bruce Reyes-Chow.