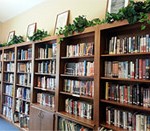 This week we are featuring three new books. Stop by the library if you are interested in any of the following selections.
Health, Healing and the Church's Mission:  Biblical Perspectives and Moral Priorities
by Willard M. Swartley
The author critiques the current health care industry and persuasively offers an alternative insight into health and healing by incorporating insights from Scripture, varied cultures, historic and religious practices, and contemporary trends. Swartley advances and amplifies the concept of shalom that embodies holistic health and reflects the biblical view of health.
Relentless Goodbye:  Grief and love in the Shadow of Dementia
by Ginnie Horst Burkholder
Sharing from the heart by the author who cares for her spouse who is slowly slipping away to Lewy body dementia.  She reveals how she handles the constant challenges through humor, love, commitment and faith while not glossing over the loss, pain, and loneliness involved.
The Girl in the Orange Dress
by Margot Starbuck
Rather than chosen and special, Margot thought of herself as rejected, first by her birth parents, then by her adoptive father when he divorced her adoptive mother, then by her stepfather and again by her birth father.  With a good dose of humor, Margot offers the reader an exuberant, frank and, at times, poignant romp as she searches for the Father who will not fail.
---