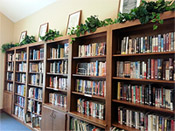 You Never Gave Me a Name by Katie Funk Wiebe: this book shows how the author discovered the power of the written and spoken word as well as her true identity. Katie describes a time when full service in the church could be relegated according to one's gender, meaning that many women's gifts were not considered and were sadly overlooked.
Ask Third Way Café: 50 Common and Quirky Questions About Mennonites answered by Jodi Nisly Hertzler, mother of three in Harrisonburg, Va. The Third Way Café is a website (a ministry of Mennonite Mission Network and Mennonite Church USA) at http://www.thirdway.com/.
If You Will Ask: Reflections on the Power of Prayer by Oswald Chambers: this book offers biblical truths and insights to help you develop and nourish the life of God within you and to help you remove the boundaries that limit and interfere with your connection to God.
Youth Movement to Bruderhof: Letters and Diaries of Annemarie Arnold nee Wachter edited by the Hutterian Brethren, Woodcrest: Personal letters to Annemarie's loving family, which they kept over fifty years; the struggle in life to find herself and her life purpose, through a very personal diary.