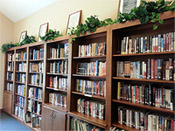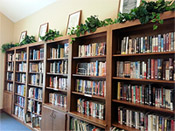 This week we are pleased to announce that we have three new books to the library.
Making Friends Among the Taliban: A Peacemaker's Journey in Afghanistan by Jonathan P. Larson – an elegant and exhilarating tale based on a cascade of interviews and eyewitness accounts, this moving narrative of Dan Terry's life and friendships offers us all a model for authentic living wherever we are.
Hiking Through: One man's journey to peace and freedom on the Appalachia Trail by Paul Stutzman – The author left his career as a restaurant manager and turned storyteller after his wife's death from
breast cancer. His passion and mission is to share what he learned on his thru-hike of the Appalachia Trial.
The Secret of the Gifts by Paul Flucke – the story read to the congregation by Dan and Jennifer Schrock on Sunday morning, December 30, about the three kings who tried to offer their gifts to the Christ child, and what happened to the gifts and to the kings themselves.
---