Mary's Musings is a collection of meditations written by several people in our congregation during Advent, 2014. The "musings" are written in first person. They are embellishments of the author's imagination of what Mary might have felt and thought. After receiving many requests from members of the congregation, we are making them available here on the website for everyone. We invite you to read them and hope that you are blessed as you meditate on these "musings" of Mary's life.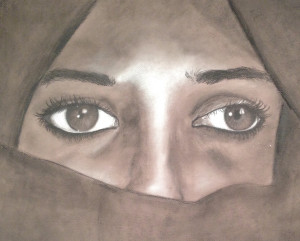 Advent 1, Mary's Musings, by Jenae Longenecker
Advent 2, Mary's Musings, by Judy Weaver
Advent 3, Mary's Musings, by Jenae Longenecker
Advent 4, Mary's Musings, by Judy Weaver
Advent 5, Mary's Musings, by Deb Brubaker
Advent 6, Mary's Musings, by Judy Weaver
Drawing by Jenae Longenecker
Note from the artist:
This is a portrait which I drew for an art class during my senior year of high school. This work was drawn in charcoal on cardstock, and was inspired by a photograph. I started this piece shortly after Malala Yousafzai published her memoir. My original intent was to combine my love for drawing eyes with my curiousity about women in the Middle East. I had seen articles and social media posts on both sides of the hijab and burqa debate, some saying that they found these garments degrading to women and others saying that they found them empowering. I knew of many other issues faced by women around the world, and wanted to explore the complexities of these issues through an artwork. As a result, I created this portrait.
Last winter, I was on the Advent worship planning team here at Berkey and took on the role of planning Advent visuals. In thinking about the many different emotions and mysteries of Mary and writing several of the Mary reflections, I was reminded of the complexities portrayed in this artwork. Mary's situation brought her surprise, confusion, joy, hope, and sorrow. There was nothing straightforward about it, and as we dive into Mary's story, we are surrounding ourselves with her mystery. I decided to use this portrait as a visual representation of Mary's humanity and the complexity of her story. I hope that as you look at it, you will be increasingly able to engage with the person of Mary.